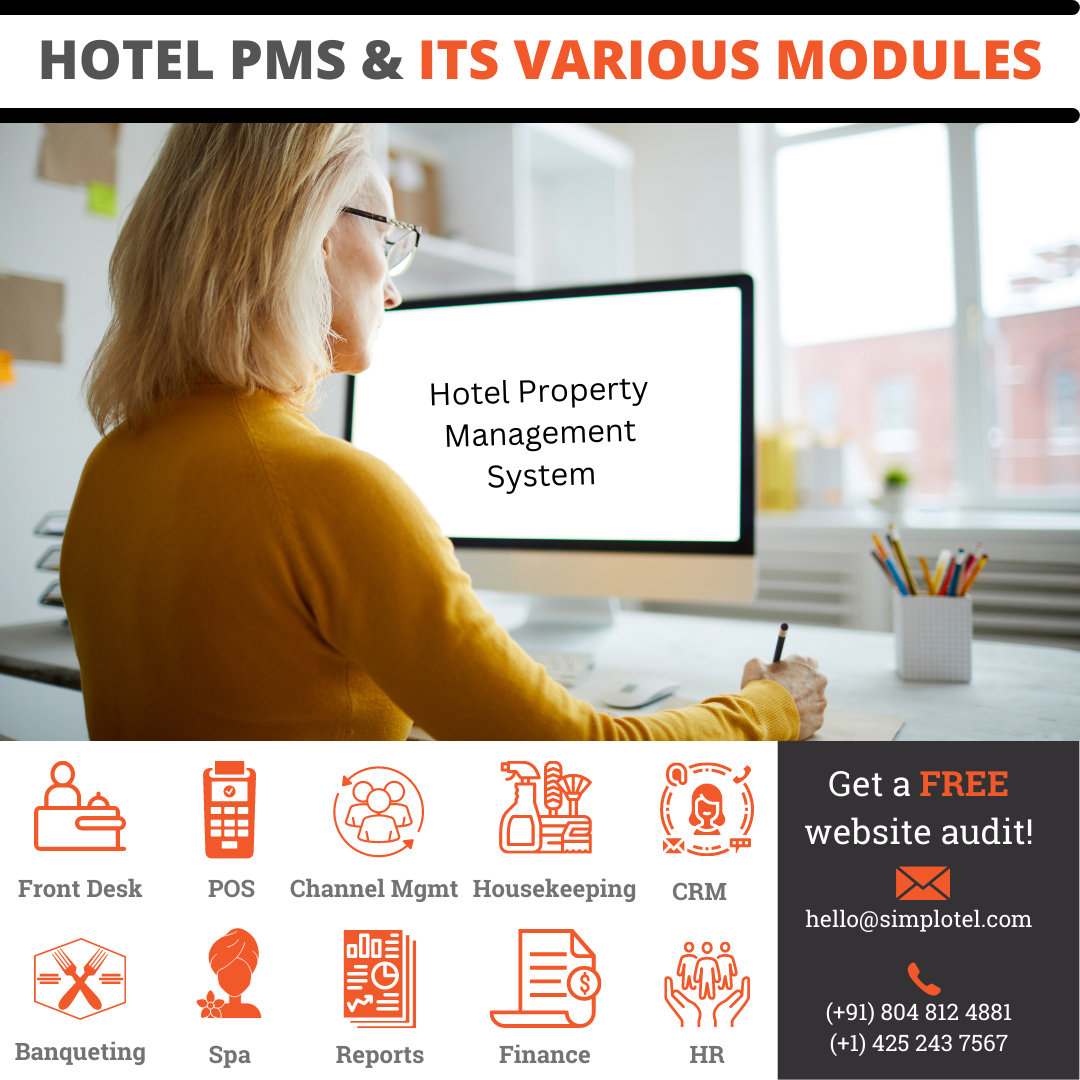 A hotel property management system (PMS) is an enterprise resource planning (ERP) software for hotels that helps them manage their operations effectively through different modules such as front-desk operations, reservations, point-of-sale (POS), housekeeping, customer data management, revenue, human resource management, etc. Different PMS systems may come with different sets of modules. Using a PMS, hoteliers can also track and analyse important metrics such as occupancy, average daily rate (ADR), RevPAR, etc.
 
Types of hotel PMSes
There are essentially two kinds of PMSes: on-premise and cloud-based. An on-premise PMS is installed with a local server that is usually located at the hotel. Unlike local or on-premise PMSes, cloud PMSes exist online and can be accessed from anywhere via the Internet and valid login credentials. Today, hoteliers prefer cloud-based PMSes due to its accessibility.
 
Modules of a hotel PMS
A hotel PMS has a wide range of functionalities, from front-desk operations to human resource management. Listed below are a few of the most widely-used modules:
Front-desk:

The front-desk module stores all the inventory data (dates, prices, categories) and is accessible by the front desk. This module helps manage room booking status, checking in/out guests, and in billing. Room management is the most crucial function of this module. It helps the front-desk manager to view the status of current and advance inventory, allocate them accordingly and also in quick modifications.
 

Point-of-Sale (POS)

A POS is a system that enables hotels to bill guests for ancillary services. For example, if the hotel has a shopping arcade, the POS can be used to create bills for the customer's purchases. PMSes may also have special-purpose modules for in-house spa and restaurants. The POS module helps to effectively manage transactions through automation and collate & store data in one place. The cost of the facilities availed by the guest can also be displayed on the final bill of the customer at the time of check-out.
 

Channel Management

Few PMSes also come with inbuilt channel managers, while the others offer integration with channel managers. A channel manager enables the hotel to distribute inventory across various online channels such as global distribution systems (GDSes), online travel agencies (OTAs), metasearch and direct booking channels such as the website. It can also be a separate software called a channel manager and performs the same function.
 

Customer-relationship management

Some PMSes also offer the customer-relationship management (CRM) module that helps store and organise guest data in order to personalise the guest experience by sending out membership offers, birthday emailers, etc. The CRM module becomes extremely useful in collating data for loyalty programmes.
 

Housekeeping

The housekeeping module maintains the status of rooms and helps schedule cleaning. It enables hotels to assign tasks to housekeeping based on hotel wing or floor, property repairs, and much more.
 

Reporting & analytics

A PMS may also provide business intelligence through data analytics and automated reports on various metrics such as departure & arrival times, housekeeping, team shift timings, etc.
Banqueting, SPA, finance and accounting, human resources, etc. are some of the other important modules of a PMS. All these modules brought together constitute a PMS, which helps hotels to manage operations efficiently and effectively.
 
The Simplotel Advantage:
Simplotel believes in simplifying the lives of hoteliers. We, therefore, provide our customers the freedom to choose a variety of global PMSes integrated with the Simplotel Booking Engine and the Simplotel Reservation Desk.